Go back
Wild weather: Storm batters Auckland, evacuations underway
There is "absolute chaos" in parts of Auckland this morning as wild weather causes extensive flooding and damage to homes and businesses overnight.
There are reports of flooding in Henderson, Waitakere, Ranui, Kumeu, Piha and Bethells Beach overnight. Reports indicate this is the most rain to hit Auckland in a single weather event since 2017.
Residents are being evacuated, houses have been flooded and cars swept away. With the worst affected areas requiring jet skis and IRBs to rescue stranded people. All roads in and out of the Kumeu township have been blocked by flooding isolating residents. Kumeu's main road and many of its shops are under water, houses are damaged and some cars are fully submerged.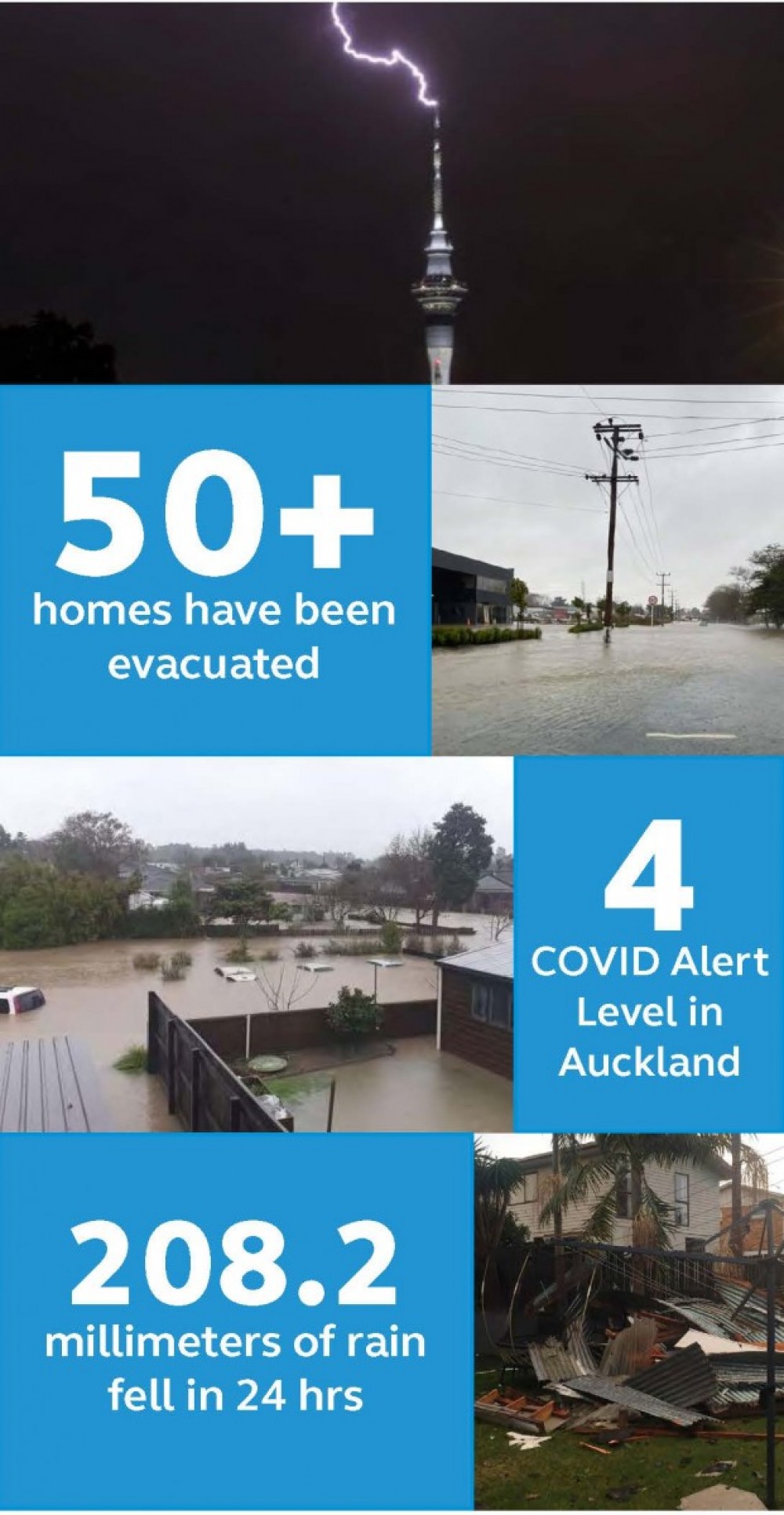 The storm started with more than 600 lightning strikes in and over Auckland before the rain and wind increased causing major damage across the west.
The region was battered overnight by heavy rain, with Kumeu copping 201mm in 14 hours. Police warn there are significant road slippages and water hazards across the Waitākere Ranges, Kumeu and Huapai areas.
As a result of this destructive weather across Auckland overnight, we are mobilising resources as much as we can to assist with Priority 1 claims and emergency work.
We are extremely cognisant of observing Alert Level 4 protocols currently in place and we will only attend site when it is safe to do so, and only for emergencies.
We will comply with strict Health and Safety measures which will include appropriate PPE, a COVID questionnaire prior to attending any sites, contact tracing and social distancing at site.
We are using our virtual desktop services where possible, complemented by our video streaming technology, ConnectMeLIVE where possible.
Mode is on standby to undertake make-safe and emergency works.
We're prepared and ready to assist, whatever the situation.
For new notifications for loss adjusting please email claims@mclarens.co.nz or call 0800 765 848
For new instructions for Mode please email
contact@modeprojects.co.nz or call 0508 677 677